A terrazzo table top means each piece is one-of-a-kind. A minimal appearance makes this table simple to style around and makes the space surrounding it truly unique.
Its clean neutral color palette will put your mind at ease. A solid oak and cement construction means this table isn't going anywhere.
Customer Reviews
Write a Review
Ask a Question
07 Jan 2022
Crystal

Canada
Lovely and Unique Coffee Table
I love this unique coffee table. It looks great and is very high quality. It's really sturdy and will last a lifetime.
06 Jul 2021
Maria G.

Canada
Table top
Hi, I do love the table, unfortunately people love to put their feet on it and the table in turn takes on their dirt, really bad. Their feet aren't filthy but for some reason when they take their feet off the top is filthy and if course I clean it daily. I now wish it had a different finish so it wouldn't take to their feet so easy. This table wasn't cheap so you can imagine the frustration and yes I will implement the rule of no feet!! Thank you!! MariA
Thank you for your feedback Maria! We've sent you an email with some tips to keep your Balance Coffee Table looking fresh even with heavy use!
21 Mar 2021
Cristell A.

United States
I recommend this product
Best coffee table !
Love how modern and airy this table looks in my living room matching with all my decor and furniture ! It's a beautiful centerpiece ! Get it you won't regret it it's super heavy and sturdy so toddlers can't destroy it !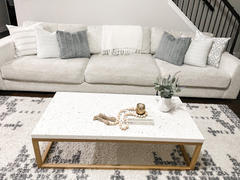 Thank you for the wonderful review, Cristell! We're so happy to hear that you love your new Balance Coffee Table — it looks beautiful in your space!
19 Feb 2021
Cristin M.

Canada
Love this table
This is a strong table with a beautiful finish. My husband was shocked I wanted a table that is porus but it came with a paraffin wax sealer on it and so far it hasn't stained even when my kids used crayons and felts to try to destroy it. Maybe we can have nice things after all... I love the look of the table and have gotten compliments on the look.
We're so happy to hear that you love your new Balance Table and that it works so well for you and your space! Thank you so much for your thoughtful review, Cristin!
HAPPY CUSTOMER
This table is the Highlight of the Room!! It's a Beauty
Sundays
Thank you Sue for writing such a nice review! We're happy to hear you love it in your space!
---
Size Guide for

Balance Coffee Table, Nougat