Enjoy this relaxing modular sofa alone or with all your friends! The clean neutral colour goes well in almost any room.
Deep seating offers ultimate comfort for the whole family with plenty of space to sprawl.
Customer Reviews
Write a Review
Ask a Question
Filter Reviews:
delivery service
friends
families
nest
both
materials
sectionals
many
partner
illnesses
12/03/2021
Emily V.

United States
I recommend this product
Like a cloud
Literally so plush. Pebble grey is very warm and fits a neutral aesthetic. It's nice that it's modular but the ottoman attachment thing doesn't actually attach like the other pieces.. so we got a thing from Amazon that connects the leg of that piece with the legs of the other pieces.. it slips and slides a little without. Overall I LOVE.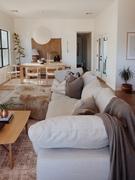 12/02/2021
Lesley M.

Canada
Movie night sofa
The sofa is nice however the cushions are not as thick as I would have hoped and if your sitting on the couch for a little it is a bit harder than I would have liked. Appearance is nice but comfort could be better especially for the price.
12/02/2021
Aaron L.

Canada
Large, comfortable and looks great!
Bought the corner chair just to make sure we'd like it enough to go all in on the couch and we weren't disappointed! Super comfy, stylish and large (we're tall people). We have since ordered another corner piece and may buy an armless to complete the couch. Only thing I'd wish for is better visibility for shipping times. Ie. We ordered another corner piece weeks ago, the website says it's in stock, but we still have no update on when it will arrive.
12/01/2021
Joanne P.

Canada
Couch that everyone loves
I was a bit hesitant about getting this sectional in white (I have 2 little boys) but really wanted a white couch. We visited Vancouver store to try out and we knew that this would be a perfect couch for our family to hangout, watch a movie and fall asleep. I've already spilled coffee once and instead of soaking through, most of the liquid remained on top of the cover so material does seem like stain resistant. It is fairly easy to fluff up the cushions and my kids love playing on/around this gigantic sectional. I love the fact that I can unzip the cushions and dry clean and spot clean them.
11/27/2021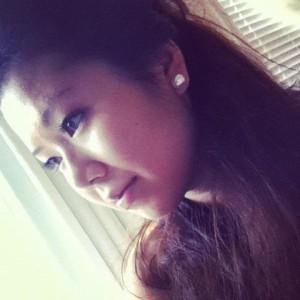 EN
Emily N.

Canada
Modern + Comfortable
At first we weren't sure if we should spend this amount on a couch. However, after purchasing it, we don't have regrets. We've received plenty of compliments on how modern and comfortable our couch is. One thing to consider when choosing this cloud couch style is you will have to maintain it by fluffing its cushions.
11/25/2021
Philip J.

Canada
Ottoman
Amazing. We love the whole couch.
11/21/2021
Renata B.

Canada
Piece of heaven
We are madly in love with our new addition to the living room. This is not only beautiful and well made… it's absolutely comfortable. From visiting their store at Ossington St, the friendly and helpful staff to the amazing team that delivered our perfect movie night sectional… we can only say… you guys are amazing! Thank you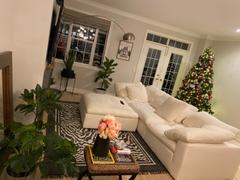 11/21/2021
Darren K.

Canada
Cushions Lacking!
Great sectional. One flaw is the lack of cushions. For the size of the sectional it only comes with 2 cushions and looks sparse. It really should have 4 cushions to give it a more luxurious look. We asked to purchased 2 more cushions but we were told this was not an option, a bit disappointed.
11/24/2021
Sundays Company Canada
Hi Darren, thank you for taking the time to leave us a review. We have reached out to you via email and we look forward to finding a solution for you!
11/19/2021
Katana S.

United States
Buyers Beware!!
I am not happy with my purchase at all. I don't see this couch lasting more than a couple of years. I've had mine less than a year and it shed so many feathers I have already had to get cushion insert replacements. If I could return it, I 100% would. And I would not recommend this couch to anyone unless they just want to buy it to look at it…
11/24/2021
Sundays Company Canada
Hi Katana, thank you for taking the time to leave us a review. We have reached out to you via email and look forward to finding a solution for you!
10/21/2021
Luna S.

Canada
Love Movie Night Condo Couch!
I am very pleased with how comfortable this couch is! I had a gorgeous, very expensive white leather couch, but it just wasn't comfortable to lie on. The movie night condo size is one of the most comfortable couches I have ever owned. The only disappointment was the colour. It is actually cream not white, and that wasn't clear on the website when I purchased 6 months ago. I did email them about that, and they said it was due to the nature of white linen. Not sure about that, I have seen whiter linen couches. So if you are looing for a white linen couch, be aware this one is cream.
10/06/2021
Ashley L.

Canada
Movie Night
Very happy with our our big, comfy couch!
10/04/2021
Natalie M.

Canada
Movie Night Ottoman Review
I have really enjoyed buying pieces from Sundays Furniture, they are always so helpful and the delivery service they use always puts the furniture together and removes the excess packaging. Their furniture is great quality and super comfy. This piece was exactly what I needed to complete my movie night sectional!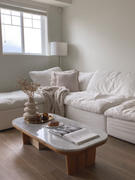 09/28/2021
Nina B.

Canada
Happy!
This thing is a monster. Even condo-size is huge! We were looking for the a relaxed looked couch and are happy with the purchase! The performance fabric is great. You do have to adjust and reposition the cushions every few days but that's okay.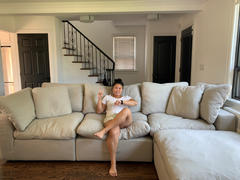 10/02/2021
Sundays Company Canada
Hi Nina! Thank you for taking the time to write a review. The Movie Night looks amazing in your home! Feel free to reach out to us if you have any questions about your new Movie Night!
09/15/2021
Brianne C.

Canada
Best thing ever
Worth every Penny! Quality is phenomenal and we are very happy with the purchase
09/05/2021
Bryan M.

Canada
Perfect couch
This is the most comfy couch we've ever owned. Plus, it does actually clean easily which we learned in a hurry thanks to our newborn. Worth every penny!
09/03/2021
Taylor M.

Canada
Love this Couch!
I absolutely love this couch and how comfy it is!! Hands down the best purchase we have made since moving into our new house.