Its warm golden brown color will attract everyone to it. A tailored appearance makes this minimalist sofa simple to style around and make the space surrounding it truly unique.
Large back cushions leave space for you to decorate with creative cushion styles or throws. Bonus: removable bolster pillows for two different looks!
Customer Reviews
03 Mar 2021
Amanda D.

Canada
I recommend this product
The perfect modern but cozy addition!
I fell in love with this couch online. Everyone told me it was a risk ordering furniture online. However, something about the site and communication with customer service ( the answered all my odd questions about the leather) I felt like I could trust this company. I am SO glad I followed my gut and shopped local with a small business. The couch is absolutely stunning and so comfortable. We have a golden retriever and it seems to hold up well to her claws (no scratching yet!). Thank you Sundays for your incredible customer service!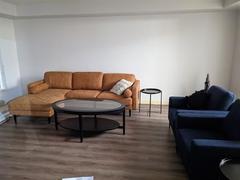 Thank you for sharing your Sundays experience with us, Amanda! We really appreciate you choosing to shop with us and are so thrilled to hear that you love your new couch!
Mrs
We absolutely love this sofa! It was exactly as described and how we imagined. High quality of all the materials. It's a great size, super comfortable and stylish. We only just moved so don't have much furniture but we are glad to have this as our central piece to build around Beautiful!
Congrats on your recent move Sophie! We're thrilled you chose our sectional to be a part of your new space and happy to hear that you love it! Thank you so much for taking the time to write such a thoughtful review!
---
Size Guide for

Unwind Sectional Right, Gingersnap